Happy September! In anticipation of fall, I wanted to share some tips for making your home smell amazing, whether you're gaga for "pumpkin spice" or more of a "freshly fallen leaves" fan. In this newsletter, you'll also find 6 picture-hanging hacks, a quick update on the national housing market, and a debunking of the "20% down" myth.
Thanks for reading!
- Debbi
It's almost here—the season of cozy aromas like pumpkin spice, apple cinnamon, and maple leaves. So it feels like the perfect time to pay attention to how your home smells. What fragrance do you want to surround you the moment you (or guests) walk through the door? A warm autumnal blend? A fresh, clean scent? Whatever your preference, here are 6 tips from The Kitchn for a better-smelling home!
1) Absorb bad smells.
The first step to a better-smelling home is getting rid of the less-preferable and
downright stinky smells. Here are some of the top-performing odor absorbers:
Baking soda: Place a few bowls of baking soda around your house and change them out weekly.
Activated charcoal: Not to be confused with charcoal briquettes used for grilling, activated charcoal is an extremely porous, powdered substance that is produced when charcoal is treated with oxygen at a high temperature. In addition to absorbing odors, it also purifies the air in your home and controls humidity. You can buy activated charcoal pellets (often designed for purifying aquarium water) and hang the mesh bag in your kitchen or place bowls of pellets anywhere you need to absorb unpleasant odors.
Distilled white vinegar: Vinegar binds with bad odor molecules, so you can leave a glass of vinegar out overnight to absorb the day's cooking smells.
Tea leaves: Dry tea leaves work just like baking soda to absorb odors—try it in your refrigerator!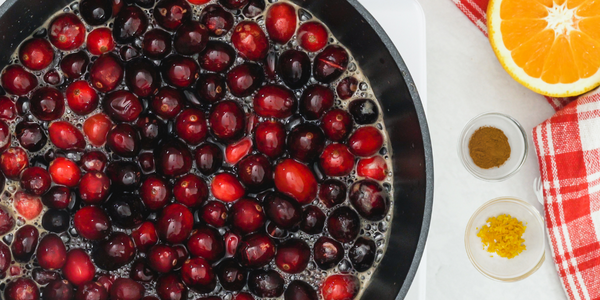 2) Simmer aromatic fruits and herbs on the stovetop.
Stovetop potpourri is easy to make and the perfect way to fill your home with warm, cozy vibes on a crisp autumn day. Shop your pantry and fruit bowl for any of these aromatic ingredients: apple slices, orange peels, lemon rinds, cranberries, cinnamon sticks, cloves, anise, nutmeg, rosemary, vanilla beans. Place your chosen ingredients in a large pot full of water, then simmer on low for as long as you'd like.
3) Roast coffee beans in your oven.
Want your home to smell like a coffee shop? Place a couple of coffee beans on a baking sheet and roast them in the oven at 400 degrees for 7 to 10 minutes, then leave the oven door cracked open afterwards.
4) Diffuse Essential Oils
There are many different ways to diffuse essential oils to scent your home. The simplest method is to place a few drops of essential oil into a bowl of warm (not hot) water and set it out in a room (out of reach of pets and children). Other options include terracotta or sandstone diffusers, electric fan diffusers, nebulizers and atomizers, and reed diffusers. My favorite tip is to put a few drops on a cotton ball and suck it up with my vacuum cleaner. Every time I vacuum the house, the lovely scent of lavender fills the air.
5) Light a Healthy Candle
Candles add incredible scent and create a nice ambiance. But it might be worth doing a little research before your next candle purchase to avoid toxic ingredients. Look for candles that are scented with 100% essential oils, advises Lisa Fennessy, founder of This Organic Girl. And opt for a candle made out of something other than paraffin wax—soy wax, coconut wax, and beeswax are good options.
6) Open a window.
Because there's no better fragrance than the scent of fresh autumn air.
How long have you lived in your current home? And how many wall decor items are still stacked up in your basement, waiting to be hung?

Hanging wall decor—whether it be framed photos, art prints, canvases, wooden signs, old window panels, or sculptural pieces—can feel intimidating. What if it's crooked? What if I put a huge hole in the wall? And how the heck do I create a gallery wall?
These tips and hacks from Renovated Faith will help you with your biggest picture-hanging challenges:
1) Use a yardstick, torpedo level, pencil, and painter's tape to ensure your pictures are level.
Karin of Renovated Faith says this is the easiest way to hang a picture so that it's level: Hold a yardstick—with a level sitting on top of it—against the wall where you want to hang your picture. "Once you get it level, mark at least two dashes on either side of the top of the straight edge with your pencil. Now, add a long piece of painter's tape, with the top edge lined up with those two marks you just made."
2) Don't have a level? There's an app for that.
Download a level app like Bubble Level, then use your phone just as you would use the torpedo level. Balance it on your yardstick to create a level horizontal line.
3) Mock up a gallery wall using paper cut-outs.
Lay each frame on top of kraft paper (or wrapping paper, or any other paper large enough), trace the frame precisely, and make paper cut-outs of each frame. Use painter's tape to arrange the cutouts on the wall. This is a great way to experiment with different gallery wall arrangements to find the one you like.
4) Use toothpaste to determine nail placement.
This tip is pure brilliance: Put a dab of toothpaste on the hanging hardware on the back of your frame, right in the center and above the spot where your nail needs to go. Press the frame against the wall where you want it (either eyeballing it or pressing it against the kraft paper cutout you arranged). The toothpaste will leave a mark exactly where the nail needs to go.
5) Use Command picture hangers.
If you want to avoid the use of nails, you can use wall-friendly, adhesive picture-hanging strips and hooks. Be sure to check the weight of your wall decor before deciding which type of adhesive mounting to buy.
6) If you have heavy wall decor to hang, get a stud finder.
Lightweight pictures (between 5 and 20 pounds) can be hung using a simple plastic drywall anchor with a screw, but if you have something heavier, you'll want to make sure you attach it to a stud. Studs are the vertical boards that are placed every 16 inches or so along the structure of a wall. To figure out where a stud is located inside your wall, you'll need a handy gadget called a stud finder.
The first step in buying a home is working with a mortgage lender to determine what you can afford. And one of the first questions your lender will ask is, "How much are you planning to put down?"
Some buyers will have sizable down payments—perhaps from years of saving or from the sale of a previous home. But other buyers—especially first-time homebuyers—don't always have that extra cash in the bank.
Fortunately, the "20% down" rule is a myth.
You do not need a 20% down payment to buy a home.
In fact, the median down payment for all home buyers is 13%, and it's often much lower for first-time buyers. There are many loan programs that allow for 3% or even 0% down.
When you're deciding how much to put down, here are some things to consider:
1) If you have a hefty savings account, but your monthly income is relatively low, it's smart to make a large down payment. "A large down payment shrinks your loan amount and reduces your monthly mortgage payment," writes The Mortgage Reports contributor Dan Green.
2) On the flip-side, if you have a high income, but little in the way of savings, a low- or no-down-payment loan might be your best option.
3) If you opt for a loan that allows for a low or 0% down payment, you'll typically be required to pay mortgage insurance. Under a 30-year fixed rate FHA mortgage, with a down payment of 3.5%, you'll pay an annual mortgage insurance premium of .85%.
4) A large down payment can actually lower your rate of return. Let's say your home sees a 5% appreciation in value in a single year, from $400K to $420K. If you put down 20% ($80K), your rate of return is 25%. But if you only put down 3% ($12K), then your rate of return is 167%—or 105%, if you have to factor in mortgage insurance.
To learn more about the different loan programs available to you—and the pros and cons of large vs. small down payments—reach out to your mortgage lender or real estate agent!
"The housing market is resetting in a buyer-friendly direction," writes Danielle Hale, chief economist at Realtor.com. However, as Hale also points out, buyers are still facing affordability challenges due to record-high listing prices, increasing mortgage rates, and inflation.

In early August, the median asking price was at $449,000—"well above what's typical," writes Hale—but price growth has steadily slowed since June.

On August 11, the average 30-year fixed-rate mortgage was 5.2%. Joel Kan, an economist at the Mortgage Bankers Association (MBA), expects "rates to moderate to around 5.2% by the end of the year."

Looking back at the second quarter of this year, data shows that homeownership rates increased from a year ago, both overall and across nearly all demographic groups. This success is likely due to increased wages and an employee's ability to work remotely—even in a different (and more affordable) state.
6035 Majors Lane, #5 Columbia
1 Bedroom, 1 Bath, penthouse, hardwood floors $175,000

6550 Ducketts Lane, Elkridge

2 Bedroom, 2.5 bath end unit, nicely updated $310,000